Luxury and convenience for the whole family.
This spacious ranch style home snuggled in the West Hills neighborhood of Bend, could be your next vacation destination, your peace relaxation and wellness retreat, or your weekend adventure! The home has been completely renovated and newly decorated for your convenience and comfort. The house has 3 bedrooms and two and a half baths. It can sleep 6 comfortably in beds (2 twin futons are also available.) Walk to our brand new neighborhood playground that was just built within our huge park up the street. Conveniently located walking distance to the local market and restaurants on Newport and Galveston Avenues, Downtown is less than 2 miles away. The road to Mt. Bachelor and Phil's Trail-head are both only minutes away. Deschutes River is only a mile away. Summer or Winter, Spring or Fall, you are close to all that Bend has to offer.
Amenities
Bedrooms have ultra queen beds with luxurious linens, European down comforters and colorful cotton covers, and new furnishings. The kitchen is fully equipped for your cooking and eating pleasure and has a new gas stove, refrigerator with ice maker, dishwasher. The open area has a large dining table to eat inside, patio tables outside next to the large yard. There is a large sunny laundry room with washer and dryer and work area. There is a bonus entertainment room as well with mounted TV, game and book library, pool table, poker table. Plenty of storage in the detached 2 car garage. Gas grill and charcoal BBQ for outdoor cooking.
All our vacation homes are business ready, 24-hour check-in, wifi, space to work, last minute reservations.
As pet owners ourselves, Rocking CR Vacation Rental Homes are pet friendly. Please call regarding pet fees.
Also, all Rocking CR Vacation Rental Homes are non-smoking properties.
Rates
Peak
$225/night Sun – Thu
$285/night Fri – Sat
$1620/week
Off-Peak
$182/night Sun – Thu
$222/night Fri – Sat
$1300/week
Peak Schedule
Peak Seasons
June 1 – Sep 30
Nov 20 – 25
Dec 20 – Jan 2
Off-peak Seasons
Jan 3 – May 31
Oct1 – Nov19
Nov 26 – Dec 19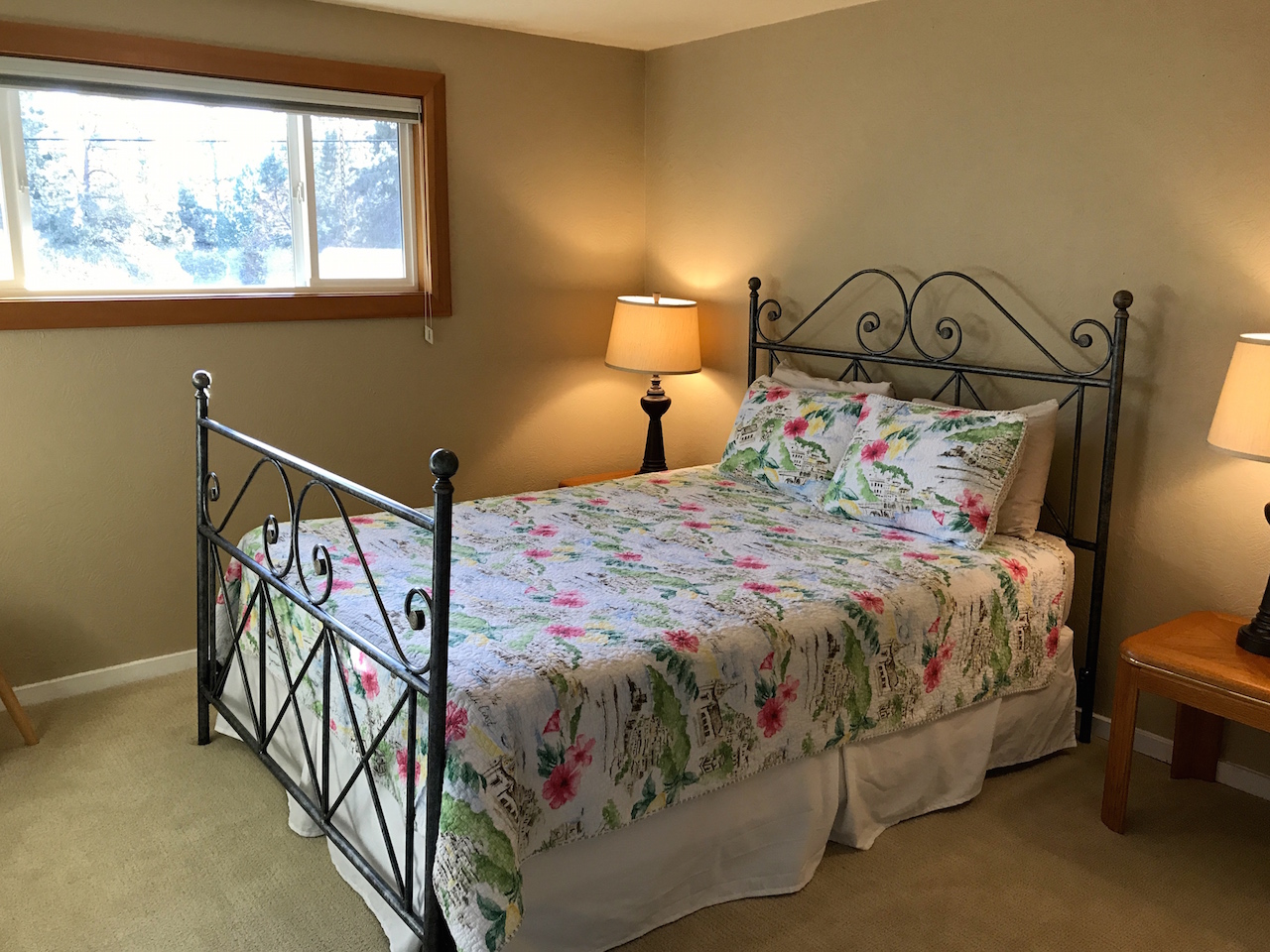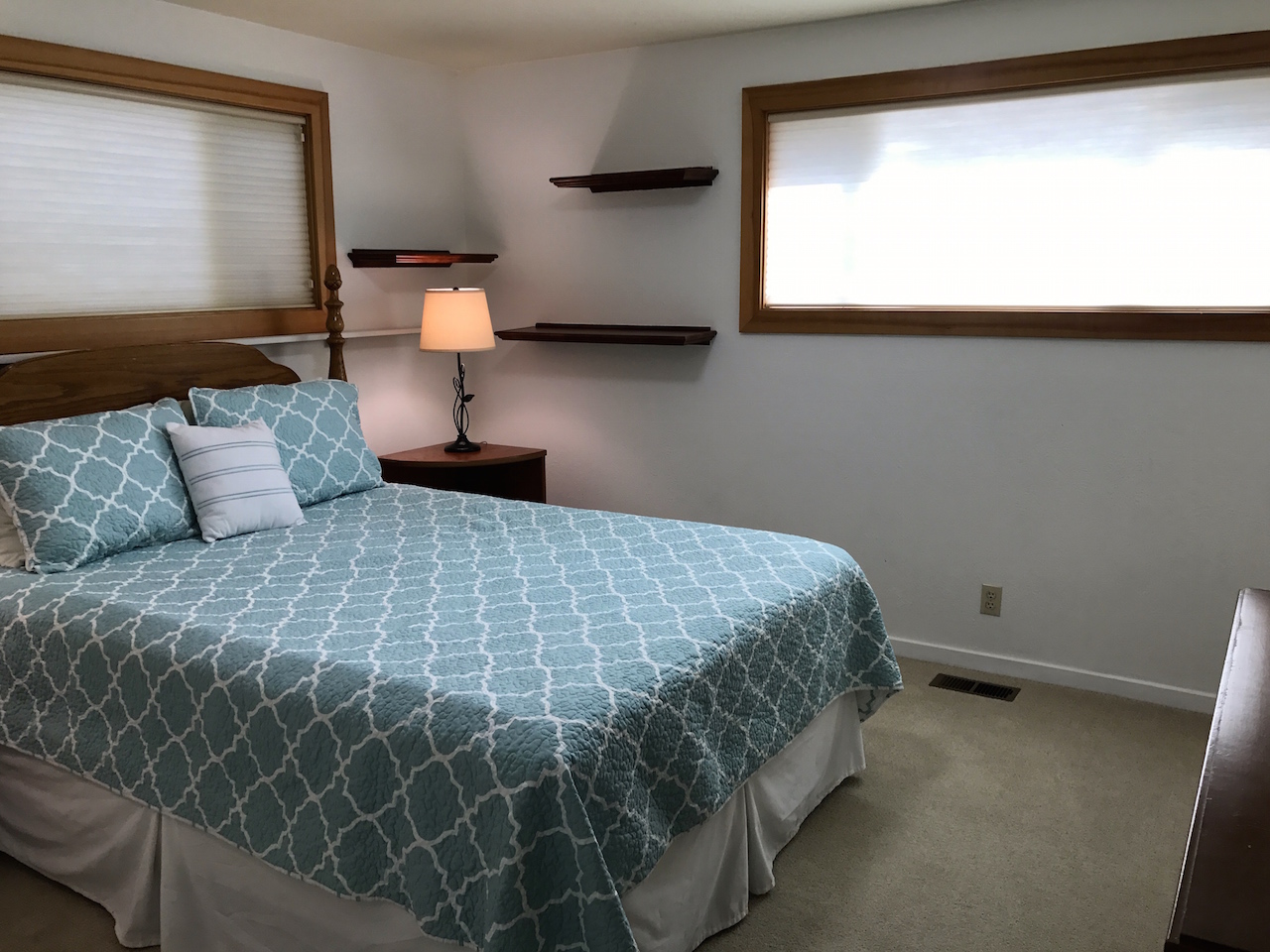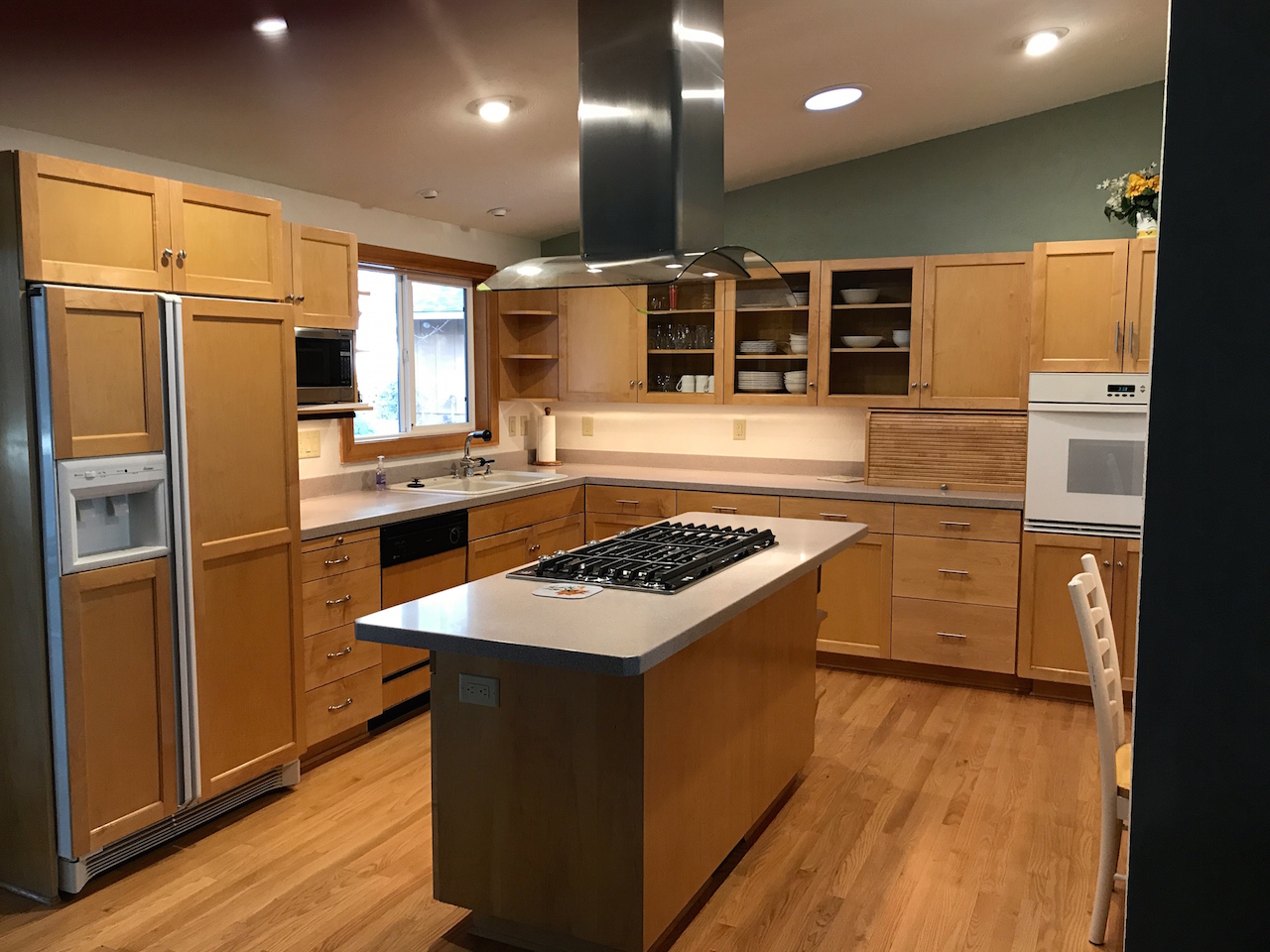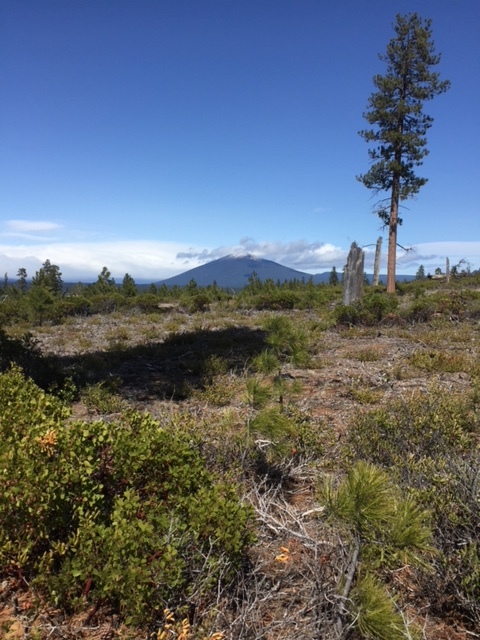 Perfect for Skiers.
"We really enjoyed our stay at the Hide Away. Location is everything to us and this home is in a lovely, quiet neighborhood, yet not too far from downtown and with convenient access to the road up to Mt. Bachelor. It's a well stocked, spacious and comfortable home and we would love to stay here again!"
— M.B.
Just Relax and Enjoy Life.
Caroline's West Hills Hideaway in Bend, Oregon was a beautiful, clean, quiet retreat for my friend of over 50 years and I to catch up and relax in. The home is adorable and has all the amenities of your own home. It was extremely clean and the beds were very comfortable. This property is close to everything Bend has to offer...the downtown area, the Old Mill District, other shopping and restaurants, etc. The back yard is an oasis. It's green and lovely and quite peaceful. My friend, (from CA) was amazed to see the deer pass through the front yard each day. All in all, it's a beautiful home in a very nice and convenient area and we had a wonderful stay there! Thank you Caroline!! —Peg S.
Great family fun!
"Thanks Caroline for a great stay. Your place is immaculate, relaxing and in a nice part of town. It was just minutes to many great restaurants and kayaking (our favorite activity). It was perfect for all three generations of our family. It even stayed cool in the July heat. We see our in-laws once a year so it was super important that the house was nice and relaxing. Your place was just that!"
— S.T.
The house is located in a nice, peaceful residential neighborhood. It was very clean and felt very comfortable. There is a great little park a block away. The house is a nice walk from downtown Bend, making the restaurants and shops very accessible. Caroline was very friendly and great to work with. I would definitely return in the future. —Nancy R.
Perfect for family of five.
"Lots of space for everyone. The Living room is nice and big, plus the gas fireplace keeps the house warm. Kitchen is big and would be great to make a big meal. Bedrooms are far enough away from living room and TV room so if anybody wants to hit the sack early. The laundry room is huge and doubles as a gear storage room, we fit 4 sets of golf clubs in there with plenty of room left. We'll definitely keep this on the list of rentals to use in the future and will recommend it to friends and family."
— P.B.
Feel Like a Local.
West Hills Hideaway was everything we had hoped for. This home is beautiful and clean and close to all the amenities of Bend, Oregon. We enjoyed golfing in Bend, Sisters and Redmond. The courses were excellent and well priced. Smith Rock State Park was a wonderful place to walk and watch intrepid Rock climbers in action. We also enjoyed the Art Scene in Downtown Bend and attended their First Friday Art Evening. Caroline and Doug make sure it all works smoothly. Thank you so much. —Suzanne and Richard
Spend quality vacation time with family.
Your Bend vacation home is waiting for you and your family. With something to please every member of your family.
They will be happy and you'll be happy. Reserve now!