Inspiration for Writers and Artists...
The Rocking CR Ranch Guesthouse has 2 bd. 1 bath, and can sleep 4. Along with the main house of the Rocking CR Ranch, the Guesthouse is situated on 5 acres of pristine ranch land, offering magnificent views of the Cascade Range, featuring the Three Sisters, Broken Top, and Mt. Bachelor peaks. The Rocking CR Ranch Guesthouse is perfect for those who like to get away from it all; also great for families with children, as our 5 acres is fenced and the guesthouse is 1/4 mile from the road. Located in the small town of Tumalo, the Guesthouse is only a 10 minute drive to Bend and a15 minute drive to Sisters. Among the many nearby activities for guests are hiking, skiing, fishing, golfing,yoga, shopping, fine dining, beer tastings, live music… You can discover many activities to meet your needs, all nearby. Reserve your peace of mind now! Take a wellness vacation and an adventure vacation..
Amenities
All bedrooms have ultra queen beds with luxurious linens, European duvets, and colorful cotton covers. The kitchen is fully equipped and has a new gas stove, refrigerator with ice maker, eating area, and a comfy living room including a mounted TV and a desk. There is a covered porch that leads to the large flower gardens and pastures…a great place for enjoying morning coffee, communing with nature, watching the sun rise, or sipping afternoon wine and local beer from the many micro-breweries, eating famous cheeses and fresh bakery bread...watching the sun set.
As pet owners ourselves, Rocking CR Vacation Rental Homes are pet friendly. Please call regarding pet fees.
Also, all Rocking CR Vacation Rental Homes are non-smoking properties.
Rates
Peak
$150/night Sun – Thu
$190/night Fri – Sat
$1080/week
Off-Peak
$120/night Sun – Thu
$150/night Fri – Sat
$860/week
Peak Schedule
Peak Seasons
June 1 – Sep 30
Nov 20 – 25
Dec 20 – Jan 2
Off-peak Seasons
Jan 3 – May 31
Oct 1 – Nov 19
Nov 26 – Dec 1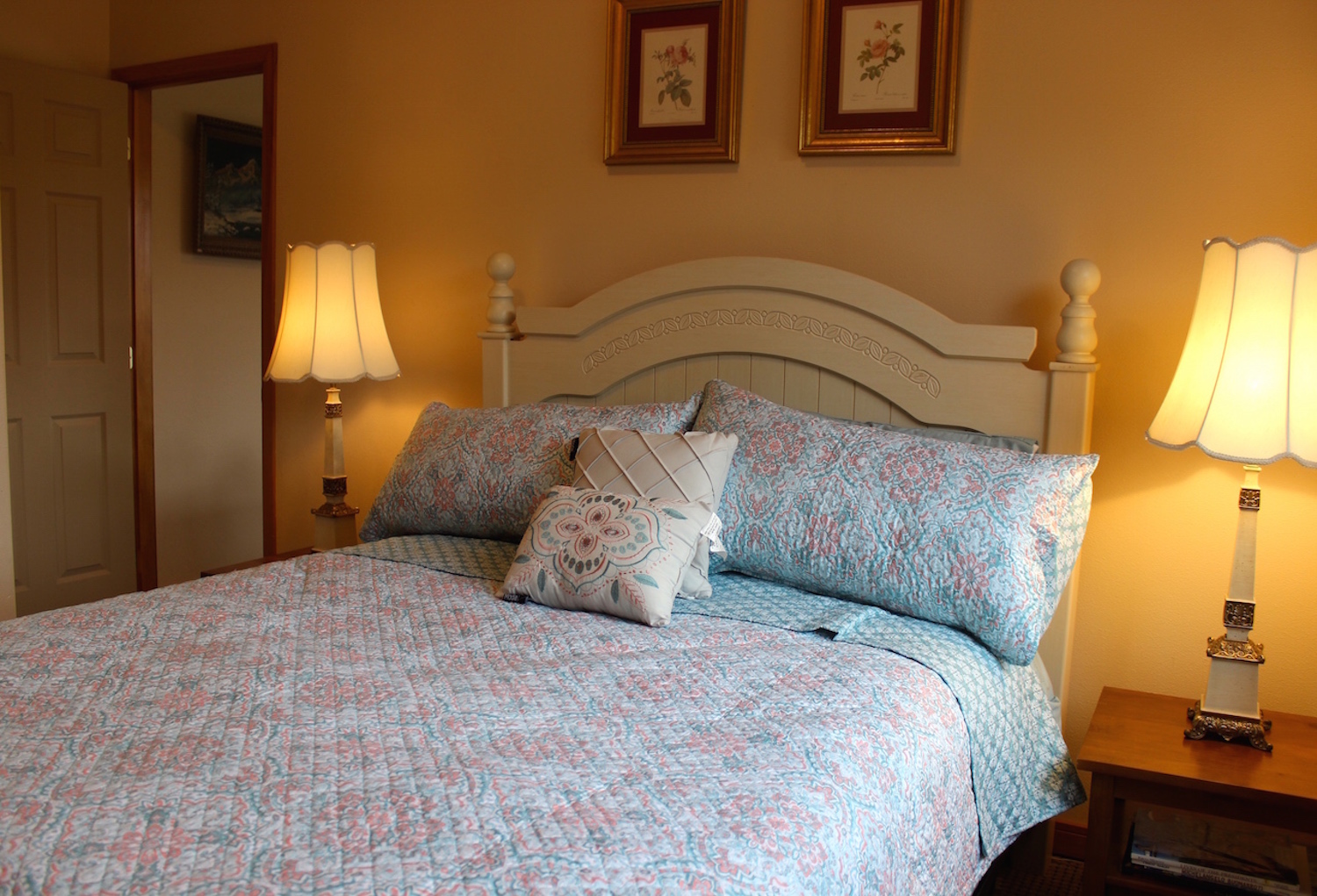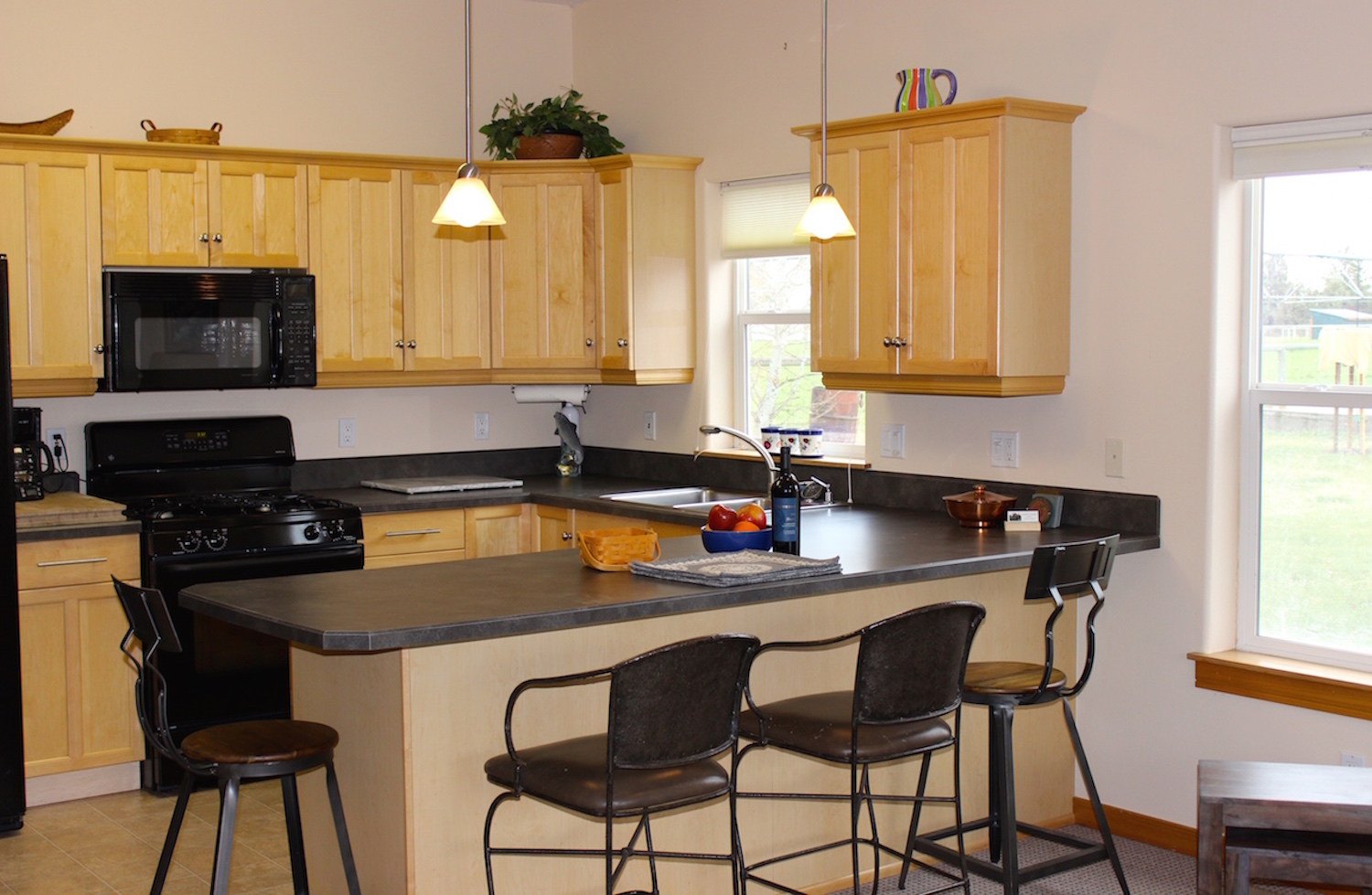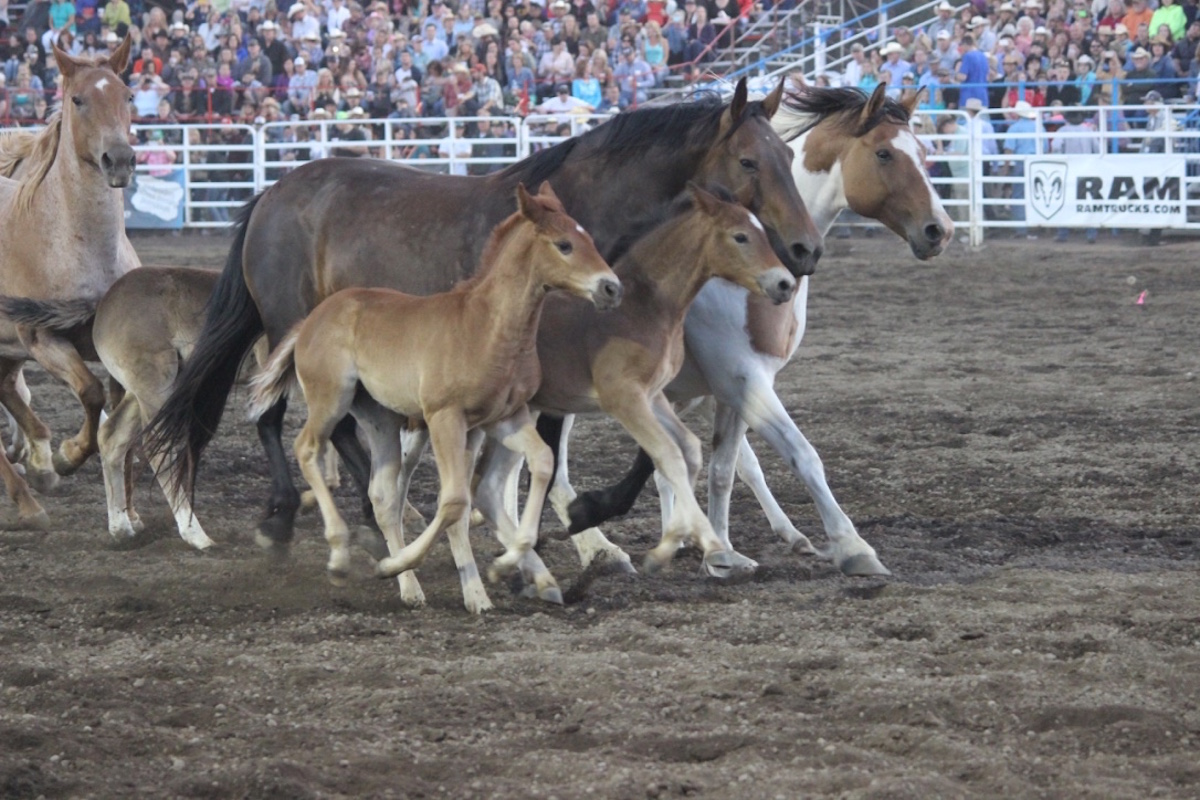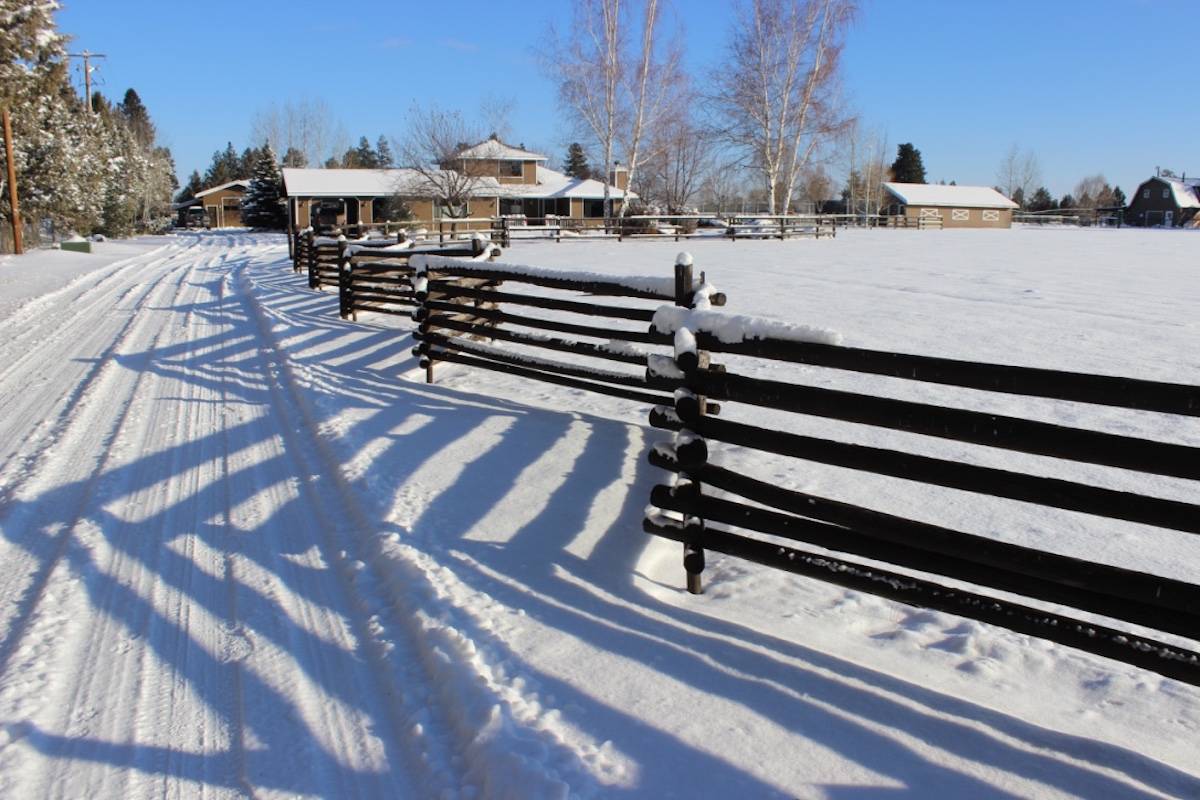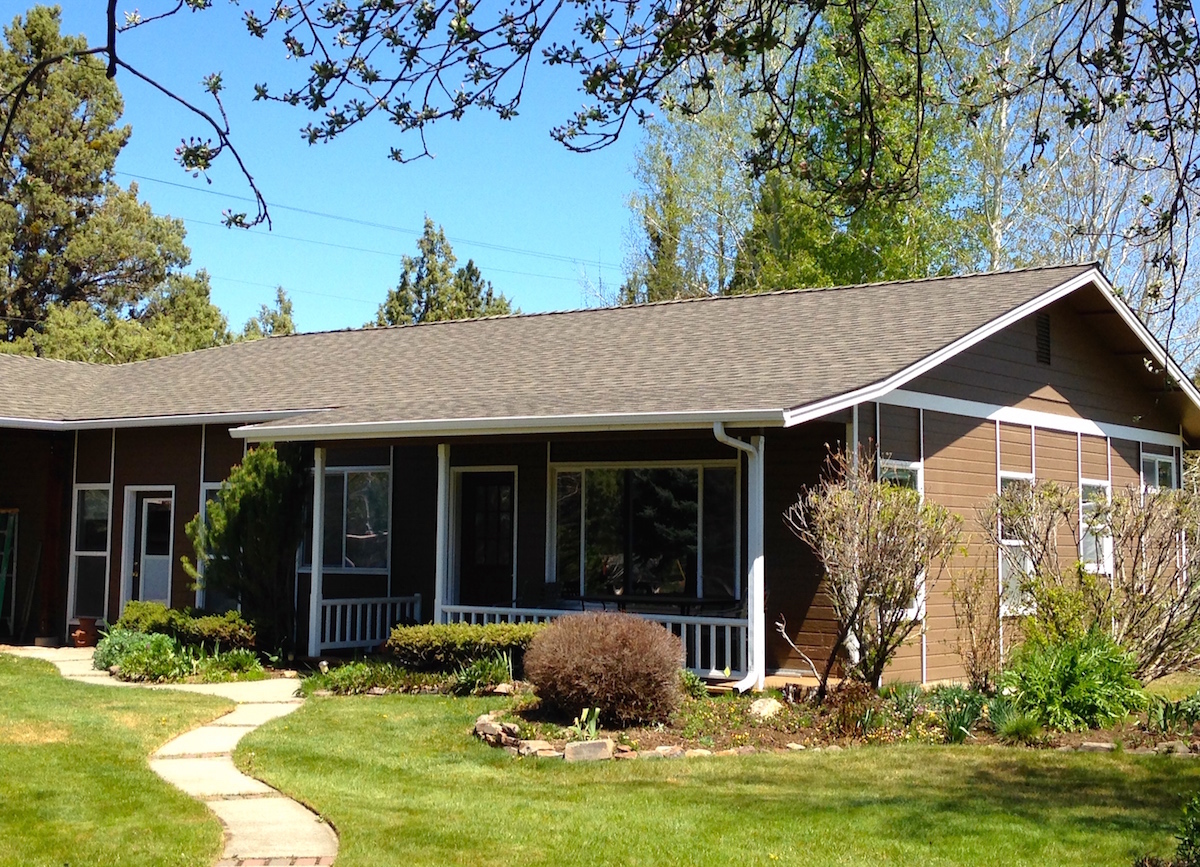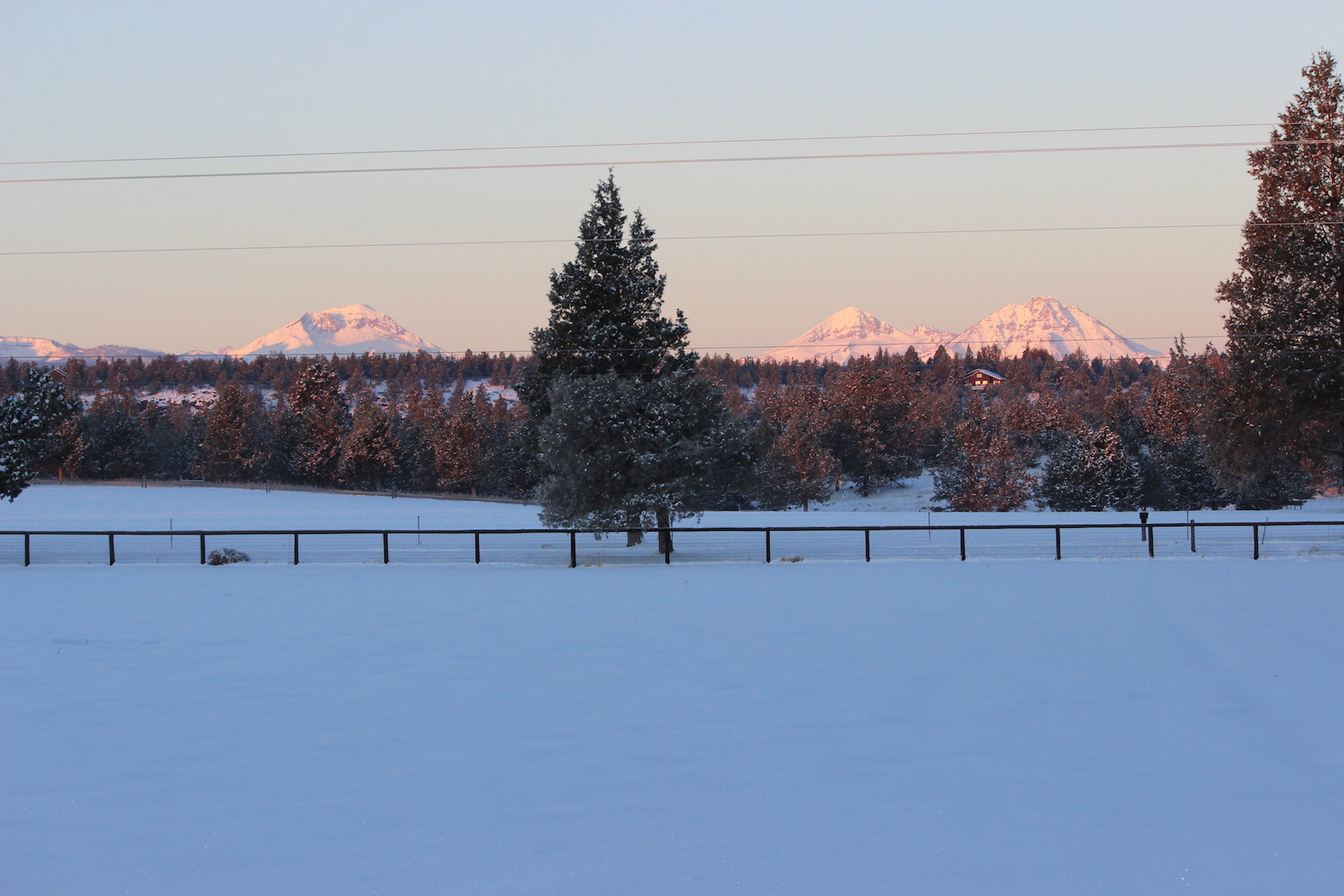 Perfect for Inspiration.
"My wife and I are writers. We travel for inspiration. Rocking CR Ranch Guesthouse gave us the open air, nature, mountains, and space to inspire each in our own way. Thank you for sharing your home with us."
— J.J.
Staying at the Rocking CR Ranch Guesthouse with two young grandchildren in early spring was so much fun. Spacious, clean, light-filled, and comfortable both inside and outside (with a pretty, covered patio adjacent to gardens), the guesthouse is situated on five scenic acres with expansive views of the mountains beyond. Driving just minutes away, we enjoyed tobogganing, snowman-building, hiking, and dining and shopping in Bend and Sisters. Over our five days at the guesthouse, our hosts, Caroline and Doug, were most hospitable, ensuring that even a vacation with an 18-month-old was enjoyable. We made beautiful family memories there and look forward to returning during the different seasons. My grandchildren can't wait to have another opportunity to greet and feed their new friends -- the goats next-door!
——Kathleen
Great for extended Business stay!
"I spent a week at the Rocking CR Ranch Guesthouse while on business in Bend and it was a refreshing change from the typical week of hotel life! It is just up the road from a couple cool places to eat in Tumalo. Alternatively, Trader Joe's is close by for meal planning. Caroline is a gracious hostess and guided me for a bike ride past the Alpaca Farm, the Lavender Farm and the Buffalo Ranch. Sisters is a short hop away for more challenging bike trails. Great place to relax!"
— C.L.
Close and Quiet.
"Thank you Caroline for sharing your lovely guest house, We thoroughly enjoyed our stay there. It is very close to Bend and would be a great place to stay for anyone looking for accommodations in the Bend area. We would gladly choose it again."
— B. & A.
We had a wonderful time at the Rocking CR Guest House! The ranch property is stunning, with views at the front of the property of the Sisters mountains, and gorgeous wide-open rural scenery. The guest house is fantastic. It is charming, and very comfortable. It was excellent for our family of four, with two small children. There was plenty of space for everyone to settle in comfortably. The location is perfect for exploring in and around Bend. It's just a short, ten minute drive into downtown Bend, and a short drive to great trail heads and snow play for the kids. We visited at the very beginning of spring, and experienced some light leftover winter weather, which was beautiful. We can't wait to return in the summer. There is so much family fun in this area of Central Oregon year round, and Rocking CR Guest House is an awesome place to stay. I highly recommend this place for families, solo travelers, or couples. We can't wait to return! —Juliana
Take a break from the hustle and bustle.
"The Rocking CR Ranch Guesthouse rests on five acres of pristine ranch land in Tumalo, and is the perfect place to relax!" -Chuck N.